PRESS RELEASE
ÁLAVA INGENIEROS STRENGTHENS ITS PRESENCE IN THE SECURITY SECTOR AFTER REACHING AN AGREEMENT AS A TECHNOLOGY PARTNER OF KELVIN HUGHES, A WORLD LEADER IN THE DESIGN AND SUPPLY OF SURVEILLANCE SYSTEMS
The Spanish company, specialized in providing high-tech for various sectors, has signed an agreement to become technological partner of Kelvin Hughes in the field of detection and identification, with state-of-the-art radars and other innovative integrated surveillance solutions.

The agreement has been presented today in the framework of HOMSEC 2015, the V International Exhibition of Security & Defense Technologies, to be held from March 10th to 12nd in Madrid, and in which Álava Ingenieros is presenting its broad portfolio of technology solutions in the field of security and defense at booth E18.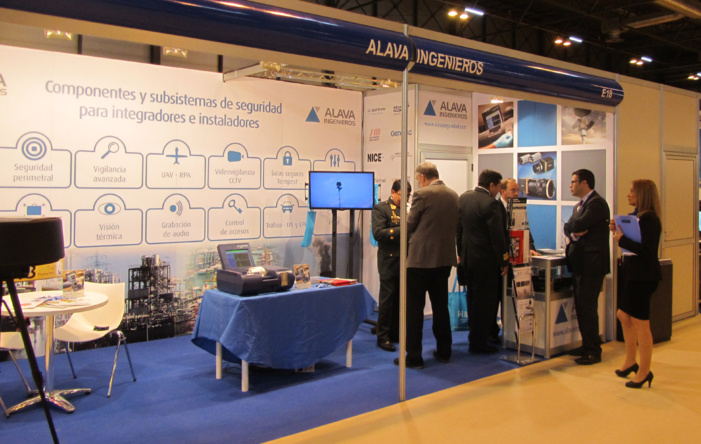 PHOTO: Álava Ingenieros stand at HOMSEC 2015.

Madrid, March 11, 2015.- Álava Ingenieros, a company specialized in supplying high technology, has gone a step further to establish itself as a leading company in the domestic field of technology solutions for the security area. The Spanish company has signed an agreement to become technological partner and official supplier of the multinational Kelvin Hughes, a leader in the design and supply of surveillance systems, security and navigation. Specifically, the agreement is for supplying its applications in surveillance and security.

Through this agreement, Álava Ingenieros will incorporate into its portfolio of products and capabilities the technological tools developed by its partner in this field, specialized in detection and identification through state-of-art radars and other integrated solutions of surveillance.

Specifically highlight the SharpEye radar systems, which offer a greater range of detection (360º), and format (mobile and fixed radar surveillance), the availability of integrated applications by radars and cameras, and other aspects such as a greater durability, lower cost of maintenance costs and less susceptibility to bad weather.

Kelvin Hughes has been a world leader in the design and supply of navigation and surveillance systems for more than 250 years and currently supplies 30 of the world's navies. The company introduced the first commercial radar in 1947, the first paper chart tracing service in 1971 and, more recently, the SharpEye™ SCV, the world's first small watercraft situational awareness radar which is able to detect small or fast moving targets in adverse weather conditions and at greater ranges than conventional radar systems.

Álava Ingenieros in HOMSEC
This agreement was presented today in the framework of HOMSEC 2015, the V International Exhibition of Security & Defense Technologies, to be held from 10 to 12 March in Madrid, and where both companies are presenting their capabilities and technological solutions in the Security and Defence sectors.

Álava Ingenieros is present in this important event at booth E18, of 18 square meters, where in addition to the new capabilities of its technology partner, is releasing its extensive portfolio of specific tools in this area, reinforced in the last years to expand its presence and activity in the national and international market.

The company has been carrying out a strategic bet on increasing its share of business in the field of security with the incorporation of new components and subsystems that allow to cover all the needs of its customers on issues related to security in public buildings and private, the fight against terrorism or drug trafficking, prevention and fire fighting, etc.

In addition, this strategy has led Álava Ingenieros to double its technological offer in this area in the last few years, becoming one of the specialized companies with higher capacities of service in the Security sector. Álava Ingenieros advises integrators, installers and security engineering, providing all necessary components and subsystems to give shape a comprehensive security system, being distributor for Spain and Portugal for leading manufacturers in the industry. Also, if the project can be adapted to specific needs of the same offering services and products as part of its overall project.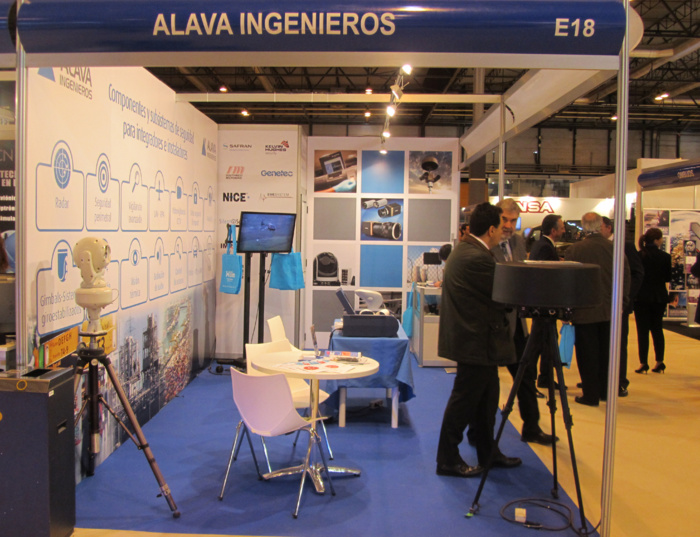 About Álava Ingenieros Group
Álava Ingenieros Group is a Spanish company specialized in the supply of high technology and associated services for different sectors. With more than 40 years of experience, the firm also has always focused its activity beyond the provision of technology, betting on value-added services and focusing on technical advice and accompaniment to the customer. The company has offices in Madrid, Barcelona, Zaragoza, Lisbon (Portugal) and Lima (Peru).

About Kelvin Hughes
From instrumentation to digital charts, integrated bridge display systems to solid state surveillance and security radars, Kelvin Hughes has established itself as a technology innovator and reliable partner to the world's navies, coastguards and merchant shipping companies. That expertise is also applied to the land domain where products designed and built by Kelvin Hughes safeguard borders, coastlines, and critical national infrastructure.


Further information:
Celia Ruiz
+34 954 62 27 27

Download press release and photos:

Press Release Ingenieros HOMSEC2015 v2.pdf
(21.68 Kb)

HOMSEC 1.jpg
(1.53 Mb)

HOMSEC 2.jpg
(1.93 Mb)